4 Steps for Creating an Employee Performance Improvement Plan
4 Steps for Creating an Employee Performance Improvement Plan
4 Steps for Creating an Employee Performance Improvement Plan
By: Emily Heaslip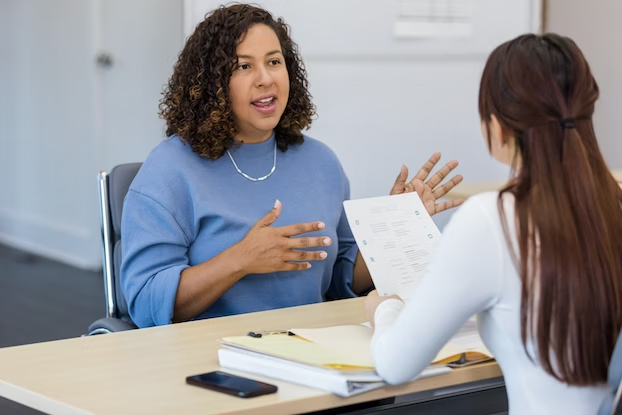 One good way to find out why an employee is underperforming is to ask them. Sit down with the employee to work out where and why they're struggling, and create a plan from there. — Getty Images/SDI Productions
It's never a good feeling to put an employee on a performance improvement plan. But these plans are designed to help an employee overcome any obstacles that are preventing them from thriving. When you shift your mindset and think about performance plans as opportunities to develop your team members, these plans can be highly effective.
Work with an underperforming employee to develop a performance plan that helps them get up to speed. A performance plan that covers these four stages can help get your team member back on the right foot and set up for success.
Start by identifying the issues
Gather information about the employee's performance from their manager, clients, or peers. Before you put someone on an improvement plan, sit down with the employee to identify any underlying causes. Keep in mind that just because someone is underperforming doesn't mean they aren't making an effort. Get their perspective to learn what challenges are impacting their work product.
"It could be that an employee has had an insufficient induction or training, a jarring experience after returning from leave or secondment, that they aren't using the right employee engagement tools, or that there has been a pivot in your business model," noted Perkbox.
It may even be a personal circumstance that is impacting the employee's work performance. Not everyone is willing to be transparent about a health or disability issue they may be dealing with for fear of losing a job. Consider including an HR professional in these conversations to learn what you can about an employee's situation.
Set clear objectives
The next stage involves setting objectives for the employee to accomplish by the end of their performance plan. These objectives clearly and plainly let the team member know what you expect them to do differently, by when, and how their performance will be reviewed or measured, according to Cezanne HR.
Remember, the goal of a performance plan is to improve someone's performance — not push them out the door. "Make sure any objectives or targets you set are realistic and to be performed within an appropriate time frame. People will feel defeated before they start if what you are asking is so stretching that it seems unachievable," wrote Cezanne.
Some managers set incremental targets within a performance plan to help the team member show progress. This also helps an employee feel like they're building momentum and stay motivated.
Provide training and support as needed
Make sure you avoid the two types of bias that can impact a performance plan by providing support and training to the employee.
Two biases can undermine the outcome of a performance plan. The "horns effect" causes anything the employee under review does to be viewed as negative, and the "just-like-me" bias can cause a manager to evaluate the employee positively only if their work approach is similar to that of the manager.
By providing the resources and tools the employee needs to succeed, you can empower them to reach the goals of the performance plan of their own accord. Whether they need training, a mentor, job shadowing, or flexible work, make sure the employee feels supported to bring their performance to your level of expectation.
Evaluate the results
At the end of the performance plan, make sure you take the time to review the results with the employee — for better or worse. Whether the employee was able to improve their performance or not, everyone should feel like the performance plan was a valuable experience.
"You can't expect a struggling employee to swim on their own after being thrown into a pool," said Gusto's former head of HR, Katie Evans-Reber. "Take the time to give them swimming lessons. Both parties should walk away feeling as good as possible, having each given it their all."
Source: https://www.uschamber.com/co/run/human-resources/steps-for-creating-performance-improvement-plan
Additional Info
Source : https://www.uschamber.com/co/run/human-resources/steps-for-creating-performance-improvement-plan?utm_source=sfmc&utm_medium=email&utm_campaign=MO_News