Hawaii Tokai News | Spring 2022 Issue
Hawaii Tokai News | Spring 2022 Issue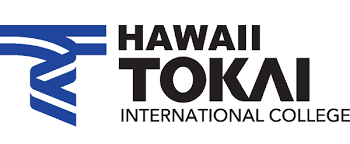 SPRING 2022

Introducing Hawaii to the New CP Students
Editor-in-chief: Dr. Sandra Wu-Bott
As we have a large number of new students arriving at HTIC in Spring 2022, I would like to start off this newsletter with a warm welcome and a heartfelt aloha. Being in Hawaii and away from Japan with all of your family and friends cannot be easy. Hopefully this newsletter will ease any anxiety and help start off your time at HTIC in an excellent manner. To begin this newsletter, a student has produced a video introducing HTIC to our new students. There are other articles and videos showing outdoor activities that are located on Oahu to include beaches, sunsets and a hike. Some activities were conducted specifically as a mentor/mentee activity so new students are not on their own going to unfamiliar places. Included in this newsletter are other social activities and HTIC events that will show that even though you will be attending classes and focusing on your education, there are opportunities for fun activities. You can also see a student's experience living in Waikiki. Who knows, maybe some new students will take up the challenge at the end of this newsletter and join the newsletter team! You will be more than welcome. Again, welcome to all the new students and here is to you achieving your educational goals and furthering your academic career here at HTIC.
Special Feature:
Introducing Hawaii Tokai to New Students
by Tomoki Kaihara
I created a video that promotes basic information about Hawaii Tokai International College. If you watch this video, you might well understand about our wonderful facilities. I hope you can enjoy this video, and it will make you more interested in Hawaii Tokai International College. You can share this video with your friends or families if they want to know more about this school!
Kahekili Trail Hike

By Masaki Satomi

My friend and I, both members of the Newsletter Team, went hiking on the Kahekili Trail on Oahu. It took 40 minutes by car from HTIC to get to the trail. Generally considered a challenging trail route, it takes Read more.




Student Lifestyle in Waikiki

By Y.O.

I am a newsletter team member living in Waikiki, far from HTIC. In this article, I will share with you the advantages and disadvantages of moving to Hawaii and living in Hawaii based on my experience of living in Hawaii for about two years. Currently, I am living in Waikiki. Read more.




Hot Import Nights 2022




By Y.O.


On April 16th is the date of the event that car enthusiasts have been waiting for all year, the 25th Anniversary Hot Import Nights (HIN) at Neal S. Blaisdell Center. That day, one of the newsletter members, Y.O., and former member Mao Yoshino went to the Hot Import Night event in Honolulu in April 16. Read more.




Welcome BBQ & Sports Day




By Kento Inoko, Photos by Shunta Wakamatsu


As the activities of Student Government, we held the Spring '22 Welcome BBQ & Sports Day. Actually, we were planning to hold this event during the Winter term, but we were not able to hold it due to the increase of COVID cases. Therefore, we were really glad to be able to hold this event. Read more.




SP'22 LA Presentation Day




Video by Kento Inoko


Finally, after almost a three-year wait, the LA Program was able to host its largest term event. As part of our newsletter team's efforts, Kento made a video of Wednesday's LA Presentation Day. Click here to watch the video to see LA students' wonderful presentations. ~Sandra Wu-Bott



Join Newsletter Team




By Dr. Sandra Wu-Bott

Do you want your picture placed in this wanted poster? If you are willing to share your experiences and want to improve both your English writing and speaking skills, then you are wanted. The HTIC Newsletter Team wants you! Being a member of the Newsletter Team. Learn more.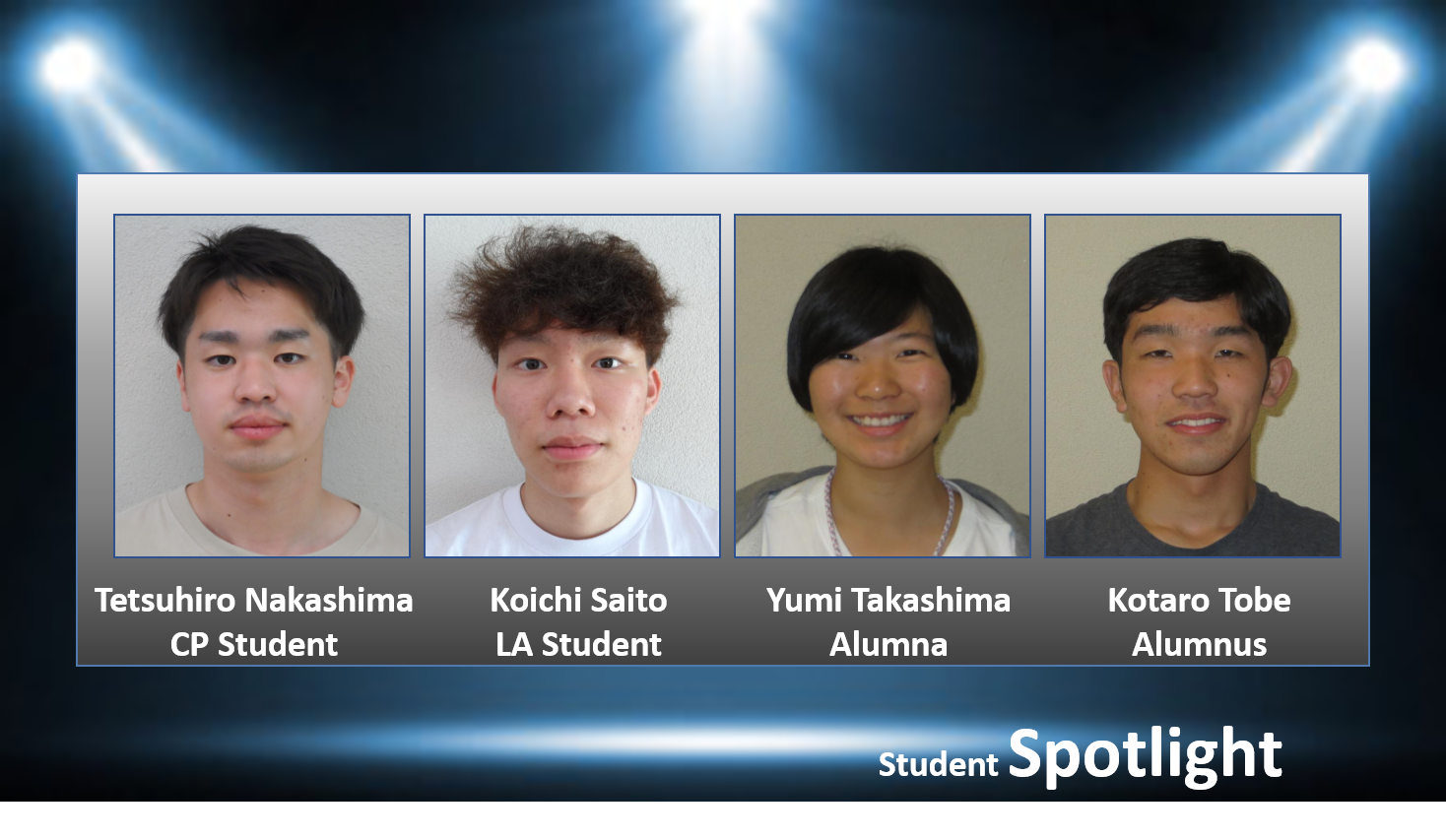 Interviews: Meet the Students
Meet Tetsuhiro Nakashima (CP student), Koichi Saito (LA student), and the two alumni, Yumi Takashima (Graduate of Fall 2021) and Kotaro Tobe (Graduate of Summer 2021). Do you want to know Tetsuhiro's secret for learning English; Koichi's technique for passing the TOEFL exam; Yumi's busy schedule at the University of Hawaii at Manoa; and how HTIC changed Kotaro's career plan? Click here to check them out!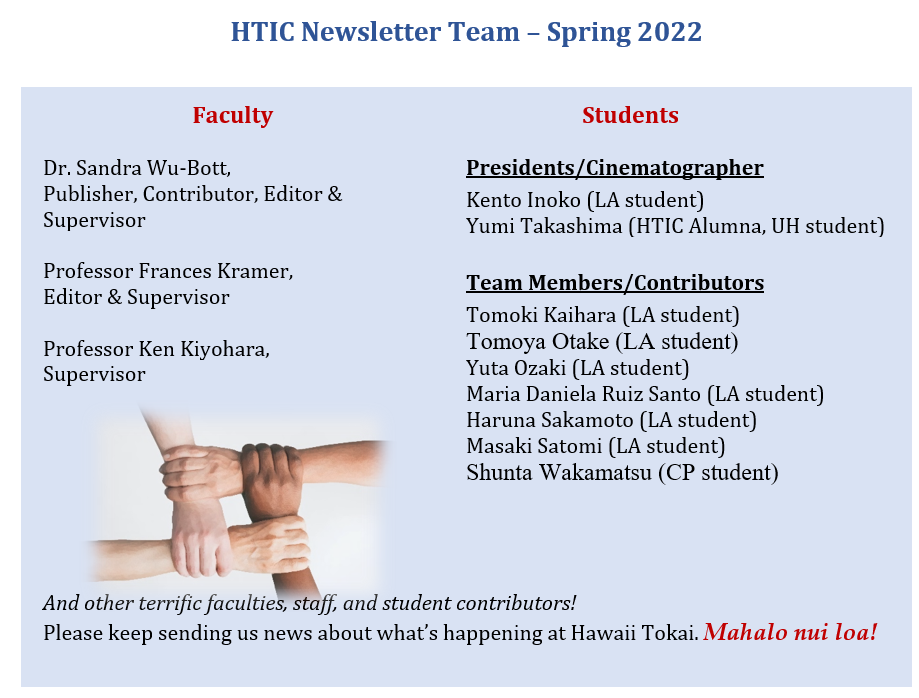 Additional Info
Related Links : https://sites.google.com/tokai.edu/hawaiitokainews-sp22/home?authuser=0