Pacific Gateway Center Gives Immigrant Businesses A Boost
Pacific Gateway Center Gives Immigrant Businesses A Boost
Pacific Gateway Center Gives Immigrant Businesses A Boost
By Alicia Lou
Diego Gallardo cracks a couple of eggs into an empty 3-pound sour cream container he's repurposed as a mixing bowl — there are a few of them around the kitchen at his restaurant, Maria Bonita, in Chinatown.
Over two decades ago, Maria Bonita started as a food truck that Gallardo bought for $1,000 and fixed up. Within the same year, it became a restaurant in Waimanalo. In 2005, Gallardo moved his food truck to Kailua and his restaurant to North Hotel Street, where it's been ever since.
But without the help of the Honolulu-based nonprofit Pacific Gateway Center, Maria Bonita may not have survived the Covid-19 pandemic. The center, which has been in operation for nearly half a century, has not only helped small establishments like Gallardo's weather economic downturns, but has also played a major role in over 800 local businesses, including The Pig and The Lady and Istanbul Hawaii.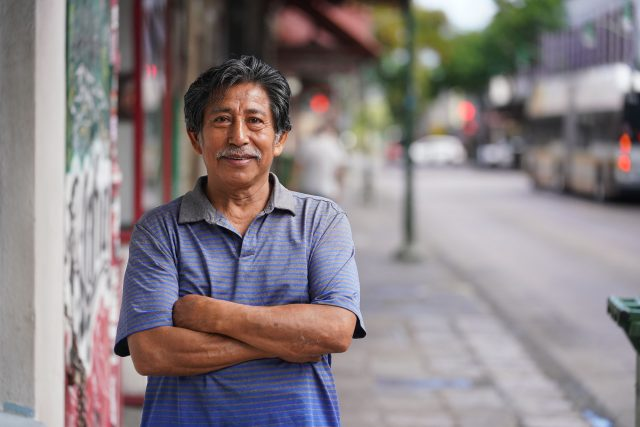 Diego Gallardo, a self-taught chef, weathered the economic downturn brought on by the Covid-19 pandemic with the help of Pacific Gateway Center, a nonprofit that caters to immigrants, refugees, and low-income residents.
Founded in 1973 by the Palama Council of Churches in Hawaii, Pacific Gateway Center was initially created in response to the influx of Asian and Pacific Islander immigrants during the Vietnam War, according to En Young, the center's executive director.
Eleven years later, PGC became a private nonprofit corporation with its own board of directors, and has since helped refugees from all over the world, low-income Hawaiian residents and immigrants such as Gallardo and Ahu Hettema, co-chef and co-owner of Istanbul Hawaii.
Still, the restaurant owners' efforts can't be overlooked. Hettema has a staff of 78, and works almost as many hours per week. Gallardo has three employees, counting himself, and at 62 years old, works 80 to 90 hours. Even as the owners, they both work six days a week.
Gallardo starts his morning in Chinatown at around 8 a.m. He closes his restaurant at 3 p.m. then drives to Kailua and sets up his food truck. By the time he gets home, it's usually after midnight.
"Maybe I'm killing myself working too much, too hard, but I feel happy inside, like I'm enjoying what I'm doing," Gallardo said. "I feel proud of myself."
Gallardo was born in Acapulco, a town of beach resorts and a major seaport on the Pacific coast of Mexico, which he said made Honolulu feel like home. He grew up with seven siblings, an abusive father, and had aspirations of becoming a wrestler.
In December 1990, Gallardo received his green card and arrived on Oahu with one suitcase. His now ex-wife, their three sons and most of Gallardo's extended family followed after he settled in.
Though he never pursued the lucha libre lifestyle, Gallardo worked in a clothes factory, landscaping, then construction, before stumbling into the restaurant industry after his mother began making burritos for the crew he worked with. The idea for a business came to him when he saw the popularity of his late mother's home cooking, and the hankering for authentic Mexican food on the island. A year later, in 1998, he started Maria Bonita, which he named after her.
During the early stages of the pandemic, Gallardo struggled to keep Maria Bonita afloat when restaurants were only allowed to fill takeout orders. PGC helped Gallardo apply for the U.S. Small Business Administration loan program and receive funds from the CARES Act through its Social Enterprise Program.
Currently, the director of social and immigration services at PGC, Terrina Wong, who has worked at the center on and off as a full-time employee and volunteer for over a decade, is assisting Gallardo with his American citizenship application, while also working with several Ukrainian families who recently arrived in Hawaii seeking refuge.
As a child, Gallardo learned English through selling arts and crafts to tourists in Acapulco with his parents. For clients who don't know English, Wong said, PGC provides a translator on-site or online through the Hawaii Language Bank.
Operated by PGC, the language bank consists of about 80 linguists who offer some 45 languages. Many members of PGC staff are immigrants themselves, hailing from countries such as the Solomon Islands, Samoa and Vietnam. Most members, such as Wong, who speaks English and French, are fluent in multiple languages, including Burmese, Italian and Mandarin.
"What we're dealing with here is truly an equity issue, which is really important to us," Wong said. "We want to provide access to justice, but also to communication."
Other than maneuvering through language barriers, many immigrants also lack health care.
In Hawaii, almost 20% of 1.4 million residents are immigrants. Last year, a report by New American Economy, a bipartisan immigration research and advocacy organization that has since merged with the American Immigration Council, says immigrants in Hawaii are almost twice as likely to not have any form of health insurance coverage compared to U.S.-born residents. That's despite the foreign-born residents in Hawaii paying $1.55 billion in federal taxes, $874 million in state taxes, and almost $200 million to Medicare, based on 2018 data.
Andrew Lim, director of research at the American Immigration Council, said the report was commissioned by The Legal Clinic, a nonprofit in Honolulu, to determine which immigrant populations were more vulnerable and needed assistance.
Lim said organizations such as The Legal Clinic and PGC are vital to helping immigrants navigate bureaucracy, and should be thought of as an investment in the local economy.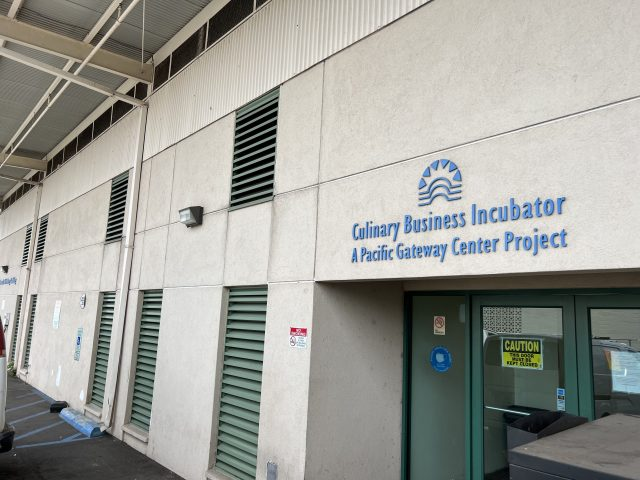 Pacific Gateway Center's Culinary Business Incubator in Kalihi is where many successful local restaurants, such as The Pig and The Lady and Istanbul Hawaii, started out.
Along with the many businesses PGC has helped contribute to Hawaii's GDP, the center also owns 176 acres of farmland. The land is leased at a reasonable rate to 38 refugee and immigrant farmers, who grow everything from daikon to soursop, betel nut and flowers.
PGC also provides many services that are not exclusively for immigrants. The center caters to low-income or vulnerable residents with affordable housing, Na Kupuna Makamae Center and PGC's Culinary Business Incubator, a suite of 12 commercial kitchens, is available to any entrepreneur at affordable hourly and monthly rates.
One of the many restaurants that have come out of this PGC program is The Pig and The Lady.
After success as a pop-up and in farmers markets, The Pig and The Lady teamed up with PGC and settled in at its current location on North King Street, in a building that PGC owns. PGC provided a long-term lease with advantageous rent, and The Pig and The Lady helped PGC by providing immigrants and refugees employment, according to Young.
Young, who worked in the state Department of Labor and Industrial Relations and specialized in immigrant workforce development before PGC, said most people in Hawaii may not realize how much impact immigrants have in the community, because immigrant businesses don't always advertise themselves as such.
"In fact, they may be afraid to do so, in fear of some of the rhetoric that's out there," he said.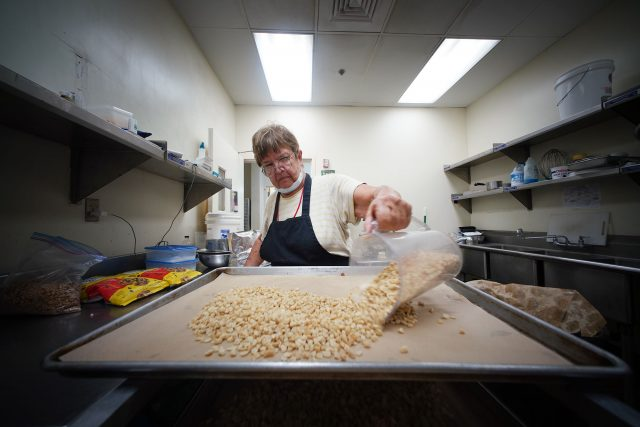 Edith Ho, or "Aunty Nani" of Aunty Nani's Hawaiian Cookies, toasting some macadamia nuts for her cookies. Edith retired from The Royal Hawaiian and began a baking business almost a decade ago, during which she became a part of PGC's Culinary Business Incubator program, and has since done all her baking in PGC commercial kitchens.
According to the New American Economy report, immigrants accounted for over a quarter of all entrepreneurs in Hawaii, and were almost 25% more likely to be entrepreneurs than their U.S.-born counterparts.
Ahu Hettema attributes this to the lack of options available to immigrants.
"If you're an immigrant, there is something in your psyche where you don't feel secure and it triggers your defense mechanism," she said. "You commit yourself to do something and you have to succeed. There is no other way."
Hettema and her mother, Nili Yildirim, are co-chefs and co-owners of Istanbul Hawaii, which serves Turkish and Ottoman cuisine.
Despite their success, Hettema never thought she would become a chef or own a restaurant — she wanted to be a painter or a sculptor, and briefly an attorney. Her passion for cooking came later, when it became her lifeline out of a decades-long depression.
The oldest of three, Hettema was born and raised in Mersin, on the Mediterranean Coast of Turkey, which like Gallardo's hometown, is a seaport city. Hettema arrived in the U.S. with a student visa when she was 17 years old, and enrolled in an English program at UC Berkley to improve her fluency. Later, she studied psychology, attended art school, and met her husband, Brandon, while she was helping her uncle at his restaurant.
"For 10 to 12 years, I didn't even dream in English." Hettema said. During this time, she wasn't able to return home due to an immigration department error. She lived with constant fear of deportation and was diagnosed with PTSD.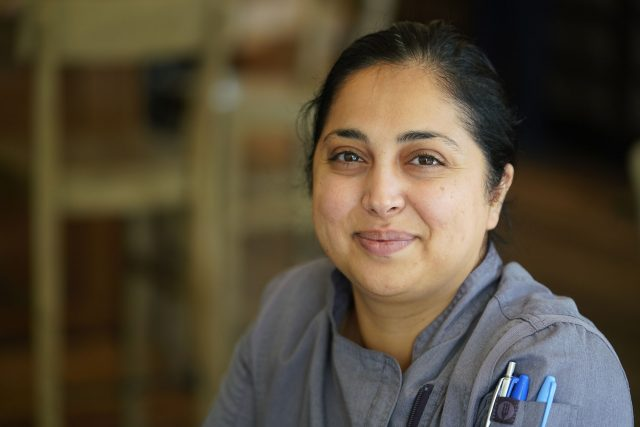 Recently, Istanbul Hawaii was awarded Best Mediterranean Restaurant by Honolulu Magazine's Hale Aina Awards for the second consecutive year, and in April, Hawaii Small Business Awards announced it as one of the best Women Owned Businesses of the Year.
"I felt that I had two homes and at the same time, I had no home," Hettema said. "I guess this is why they call us aliens, right? I am from somewhere else so I am not a human being … They took my papers, my identity. I felt like I didn't exist."
In 2013, Brandon suggested they leave the Bay Area and move to Honolulu, where he had previously lived and knew she would love. Two years after the move, Hettema still grappled with depression, which prompted her mother to move to Hawaii. Yildirim's replaced Hettema's prescription medication with Mediterranean spices she brought from home, and made all of Hettema's favorite foods.
Hettema, an artist at heart, first painted with the vibrant spices, then started cooking with her mother. Hettema said it was as if there was color in her life again. They shared everything they made with the farmers they bought produce from, and with their neighbors — who gave them the idea to start selling their food.
Like The Pig and The Lady, Hettema and Yildirim at first did most of their cooking in one of PGC's commercial kitchens after gaining momentum in farmers markets.
"In my journey, PGC (staff) were some of the best people I met," Hettema said. "All they want to do is find different ways to support you."
The mother and daughter duo spent the next four years cooking at PGC's commercial kitchen and working in farmers markets. In 2019, Hettema's immigration issues were resolved after a decades-long battle, the same year she found the vacant spot that would later become Istanbul Hawaii.
"I don't want anyone to get inspiration through me, thinking that we built this beautiful restaurant from getting rich at farmers markets," Hettema said. In reality, they lost money because they had to invest in their equipment and rent the commercial kitchen to cook in.
Like the 40 layers of filo in their baklava, Istanbul Hawaii was made from scratch. Hettema and her family pooled together their retirement savings, sold what they could and received loans through house collateral, Brandon's credit score and the SBA. After eight months negotiating with the landlord, 13 months that the family spent renovating, and various Covid-related delays — the restaurant was ready for service, and it's been busy ever since.
At the end of August, Hettema will be returning to Mersin for the first time in 14 years. It will be her first vacation since 2008, and Brandon's first time seeing her hometown.
Though her experience with immigration caused her much distress, Hettema said she feels grateful for it. She now has something that no one can take away: her life's passion.
"I can exist here," Hettema said.
PGC will celebrate its 50th anniversary next year. The center has helped over 10,000 individuals — including refugees, citizens and immigrants like Hettema and Gallardo, and continues to help more every day.
Additional Info
Source : https://www.civilbeat.org/2022/08/pacific-gateway-center-gives-immigrant-businesses-a-boost/