Rep. Ed Case 2022 Year-End Newsletter
Rep. Ed Case 2022 Year-End Newsletter

December 28, 2022
Aloha, Friend.
I've cast my last votes of the current 117th Congress (2021-2023) and am home briefly before returning to Capitol Hill for commencement of the 118th Congress on January 3rd. In this last e-newsletter to you of the 117th Congress, I want to report back on a very successful appropriations (federal funding) year for Hawai'i, as well as the results and lessons of my last Constituent Survey. I also want to provide you with a copy of my last print newsletter summarizing my activities in 2022.
Appropriations/Federal Funding for Hawai'i
I'm completing my fourth year as a member of the U.S. House Committee on Appropriations, responsible for directing and overseeing all federal discretionary funding. I devote a major amount of my office's and my own time and effort each year to my overall Appropriations Committee responsibilities and to assuring fair and full funding for our Hawai'i and Pacific.
For the current Fiscal Year 2023, this all culminated December 23rd with my last vote to pass and send to the President for enactment our Consolidated Appropriations Act, 2023, a $1.7 trillion measure directing funding across all parts of our federal government. This measure included many of my initiatives with billions more of assistance for Hawai'i, such as another $1 billion for Red Hill (over and above the $1.1 billion we secured for Fiscal Year 2022), and over $94 million for fourteen very worthy and needed community projects. Here is much more on what I worked to include in this year's appropriations measure.
December 2022 Constituent Survey Results
I deeply appreciate all of the responses to my final constituent survey of the 117th Congress, not only the answers to each question but the individual comments, all of which I read personally. The results not only assist me in reviewing my performance to date but in confirming areas needing further focus and improvement in the upcoming 118th Congress. Below are the straight results, after each of which I provide some quick comments. There is much more on my actions in these and other areas at case.house.gov, and I welcome your further questions and comments at ed.case@mail.house.gov.
How do you rate my overall performance as Hawaii's U.S. Representative? (10 highest and 1 lowest)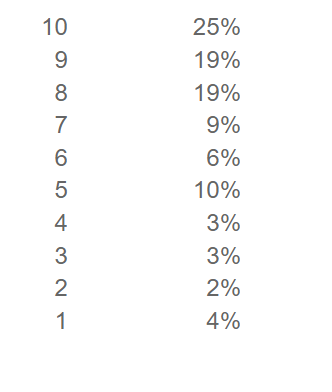 (I'm very grateful for the mostly positive ratings, as they reflect that we're on the right track. But I'm fully focused on where and how we can continue to improve our performance, especially for those who did not rate it positively.)What is the one area which I do best?
What is the one area which I do best?
(The most common answer was communicating with constituents wherever and however we can and asking for guidance. This is very gratifying as my office and I believe in full two-way communication, in a variety of ways that work best for our constituents, and I've always believed those I represent want and deserve full communication even where we may not agree. But, again, we are looking at how we can improve our communication in the upcoming 118th Congress, including returning finally to my in-person Talk Story with Congressman Ed Case community meetings across my district which I've missed greatly.
What is the one area which I must most improve?
(There was no one common answer; it was mostly about specific issues on which folks disagreed, or about wanting me to be (for some) more or (for others) less partisan. I'm grateful that there was no one clear area where we were failing to perform, but take very seriously the disagreements on specific issues, levels of partisanship and other areas that result from the fact that I represent a very diverse constituency of some 750,000 Hawai'i residents. I hope and believe that overall I fairly represent my constituents, and will continue to seek out and welcome views to improve my representation.)
What's most concerning you now? (Please choose no more than five.)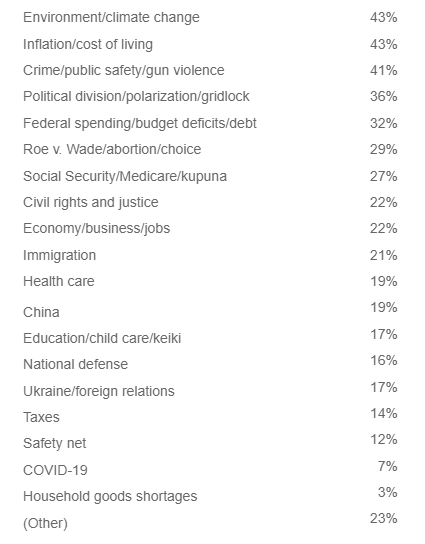 (Each of these issues and the several others mentioned are critical components of our overall national agenda. I have taken action on each of these components (see case.house.gov), and welcome this confirmation that we're on the same page as to the challenges and opportunities we must address in the upcoming 118th Congress.)
What are your views on our response to Russia's invasion of Ukraine?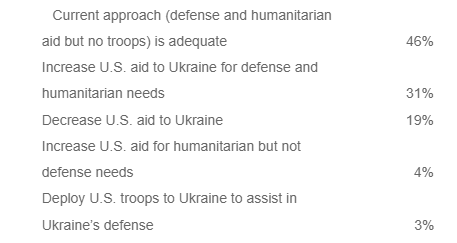 (Last Wednesday, December 21st, I was honored to join my colleagues and many more in the U.S. House of Representatives as Ukraine President Volodymyr Zelenskyy spoke to Congress and the American people and world. President Zelenskyy's speech was deeply inspiring and moving, and confirmed all over again the necessity that Russia's unjustified, unprovoked and criminal war on Ukraine not succeed. And as to the major assistance that we and our friends and allies continue to provide to Ukraine, the President said: "Your money is not charity. It's an investment in global security and democracy that we handle in the most responsible way." I thus agree with most that we must continue if not increase our aid, which is what Congress voted to do two days later in our appropriations measure with another $45 billion to Ukraine.)
How concerned are you about the People's Republic of China (PRC)?

(I fully agree with most that the direction and actions of the PRC are a major concern to our country and world. Our 2022 National Defense Strategy correctly identifies China as our main challenge and prioritizes countering China especially on our own part of the world, the Indo-Pacific. I have matched my own work in Appropriations, the House Pacific Islands Caucus which I co-founded, and elsewhere to these clear priorities.)
Do you have any other comments on these or any other matters?

(Again, I appreciate and read each comment and will be guided by them in the 118th Congress.)

What is your general political philosophy?

(I've never been much for labels as I believe they are far too simplistic and rigid and don't fully account for diverse views any one of us has, much less a constituency of 750,000 residents. But I agree that these responses do fairly reflect the mainstream of my own very diverse constituency, and remain committed to listening to all of my constituents regardless of general philosophy).
2022 End-Of-Year Newsletter Report
My First Congressional District should be receiving in the mail this week my 2022 End-Of-Year Newsletter reporting on a sampling of my activities this year. Here is a copy of that newsletter.
As always, I deeply appreciate your consideration and assistance as we all work to find the best way forward for our country and Hawai'i. For more information on my efforts, and how we can help you, please visit my website at case.house.gov. If I can help you and yours with your own questions and needs, email us at ed.case@mail.house.gov, or call us at (808) 650-6688.
My staff and I wish you and yours only the best of the Holidays.
Be safe and be well.

P.S. Please sign up for my regular e-newsletter here.
Additional Info
Source : Congressman Ed Case