UH West Oʻahu approved for program to benefit veteran students
UH West Oʻahu approved for program to benefit veteran students
By Zenaida Serrano Arvman
UH West Oʻahu approved for program to benefit veteran students
By Zenaida Serrano Arvman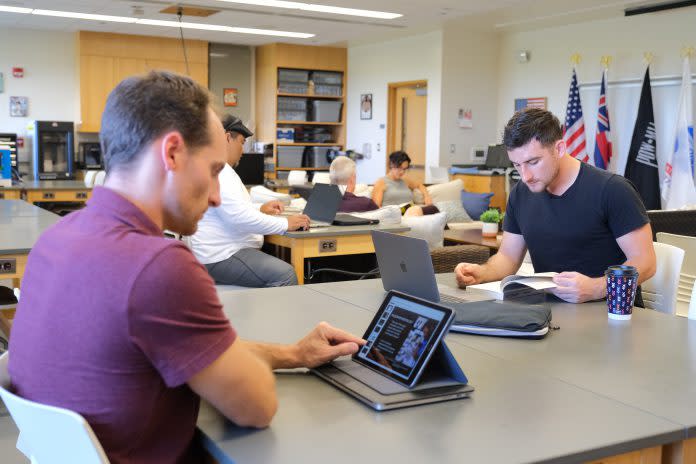 The U.S. Department of Veterans Affairs recently approved the University of Hawaiʻi–West Oʻahu as a training provider under a program that will help provide career opportunities for veteran students.
UH West Oʻahu was approved effective March 11 as a provider under the Veteran Rapid Retraining Assistance Program (VRRAP), which offers education and training for high-demand jobs to veterans who are unemployed because of the COVID-19 pandemic, according to the Department of Veterans Affairs.
"We're very pleased to be approved as a provider," said Dr. Jeffrey Moniz, Vice Chancellor for Academic Affairs at UH West Oʻahu. "Becoming a participating VRRAP educational institution fits very well with our growing efforts to address the needs of our veteran students."
According to the department, VRRAP covers education and training programs — including certificate programs — approved under the GI Bill and Veteran Employment Through Technology Education Courses (VET TEC) that lead to high-demand jobs. The U.S. Department of Labor determines what's considered a high-demand job for VRRAP.
"UH West Oʻahu's approval as a training provider for VRRAP is an important contribution for the state and the UH System," said Debora Halbert, UH System vice president for Academic Strategy. "UH West Oʻahu has demonstrated their leadership in this area and I am excited to see this opportunity open up for veterans living in Hawaiʻi."
Halbert continued, "With UH West Oʻahu's inclusion, all UH campuses are now on the Department of Veterans Affairs list of approved educational programs."
Nine certificate programs out of 11 total at UH West Oʻahu have been approved for VRRAP:
(The certificates in Asian Studies and in Music were not approved.)
Those eligible for the VRRAP can get up to 12 months of tuition and fees, and a monthly housing allowance based on Post-9/11 GI Bill rates.
For questions about the VRRAP at UH West Oʻahu, contact the UH West Oʻahu Veterans Center of Excellence at uhwovets@hawaii.edu or 808-689-2961.
Additional Info
Source : https://westoahu.hawaii.edu/kaloinews/?p=16898