Kapolei City Lights Parade
Kapolei City Lights Parade
Saturday, December 9, 2023 (5:00 PM - 9:00 PM) (HST)
Description

E komo mai (welcome) to the official website of the Kapolei City Lights Celebration sponsored by the City and County of Honolulu Department of Parks and Recreation (DPR)! Since the inaugural celebration in 2001, Kapolei City Lights has been spreading holiday cheer to this ever-growing Leeward O'ahu community as a complement to Honolulu City Lights.

This year's theme of "A Westside Wonderland" will feature decorations inspired by historic, cultural, and recreational aspects of our Leeward communities, from Waipahū to Kaʻena Point, to showcase pride in the westside! All are invited to come and experience these free City events and decorations. Come take a walk in the country this holiday season and enjoy "A Westside Wonderland."

Kapolei City Lights is held at Kapolei Hale, at 1000 Ulu'ōhia Street. The luminous decorations of Kapolei City Lights 2023 will be open to the public from the evening of Saturday, Dec. 9, 2023 until Tuesday, Jan. 2, 2024. Specific viewing hours (for the colorful decorations inside Kapolei Hale) and additional details about the opening night festivities will be announced via the KCL website and social media feeds. Kicking off the festivities on the opening night is the return of the block party and holiday parade...

Block Party: Saturday, Dec. 9, 2023 from 5 p.m. to 9 p.m. surrounding Kapolei Hale
Food, fun, and family festivities await all who attend the return of the Kapolei City Lights Block Party on opening night!

The block party will include a variety of food, vendors, and activities for all ages located near Kapolei Hale. Participants will also be able to get the first look at the colorful decorations on display inside and outside of Kapolei Hale through the holiday season.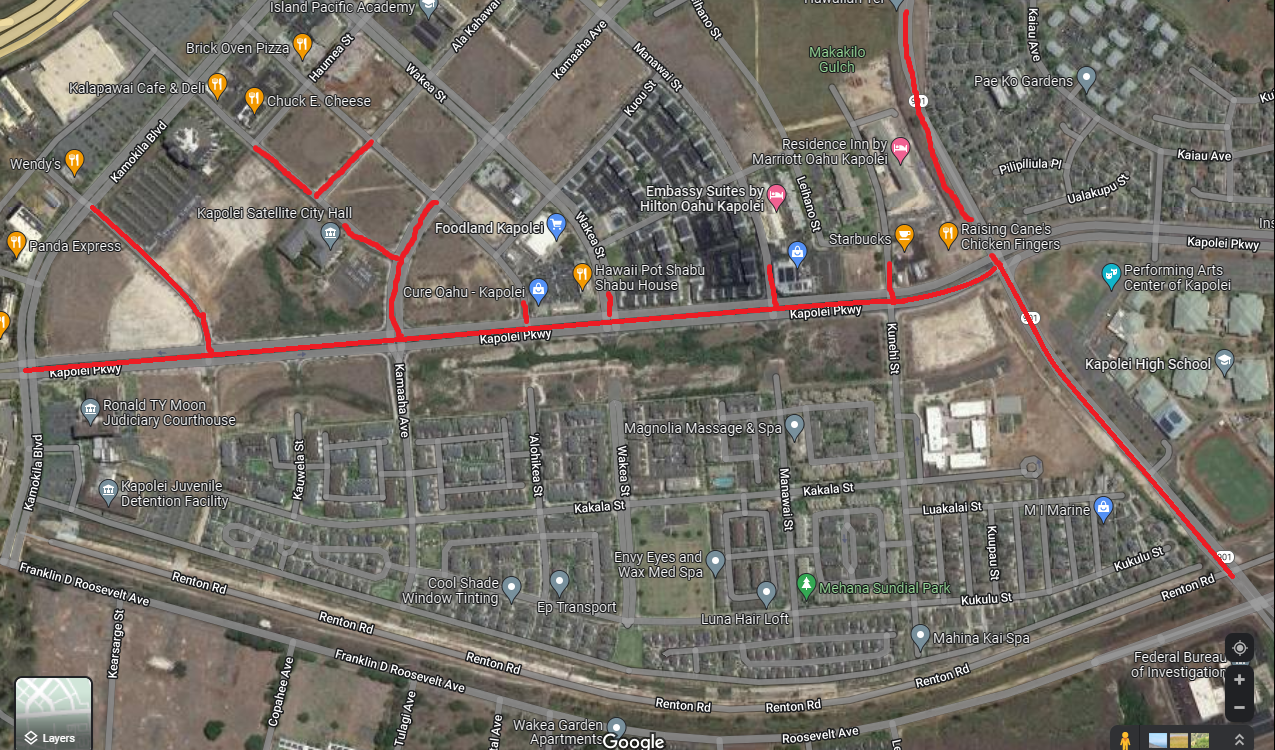 Holiday Parade: Saturday, Dec. 9, 2023 beginning 6 p.m. outside of Kapolei High School
DPR is also proud to revitalize the Kapolei City Lights Holiday Parade beginning at 6 p.m. on Dec. 9. The parade will begin on Fort Barrette Road outside of Kapolei High School, turn left onto Kapolei Parkway (the primary viewing area), and end at Kama'aha Street.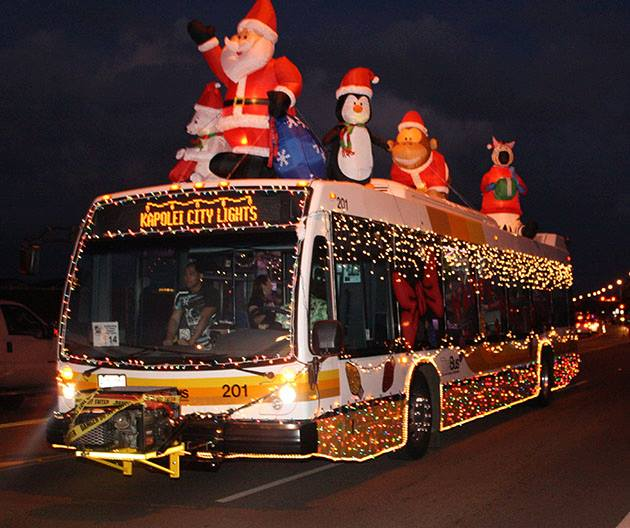 Kapolei Hale Decorations
Each year Kapolei Hale is adorned inside and out with vibrant, luminous displays of holiday cheer! This year, the decorations are inspired by our underwater environment, with coral reef, marine animals, and other ocean-themed inspiration! The inside of Kapolei Hale will be open to the public for viewing of these decorations from Saturday, Dec. 9, 2023 until Tuesday, Jan. 2, 2024. The ornaments outside of the hale will be illuminated nightly until 11 p.m., with the inside of Kapolei Hale open to the public with the schedule coming soon.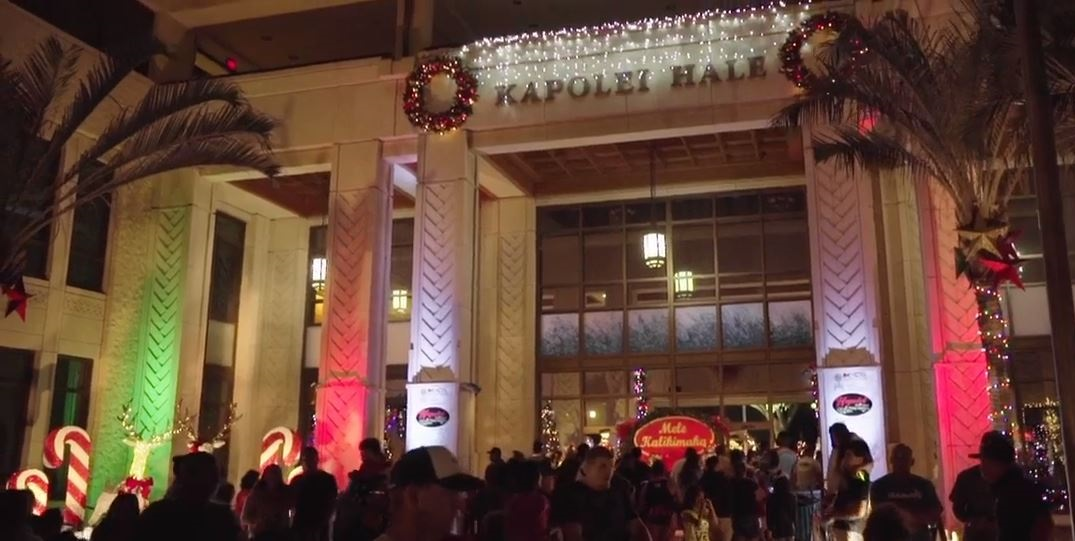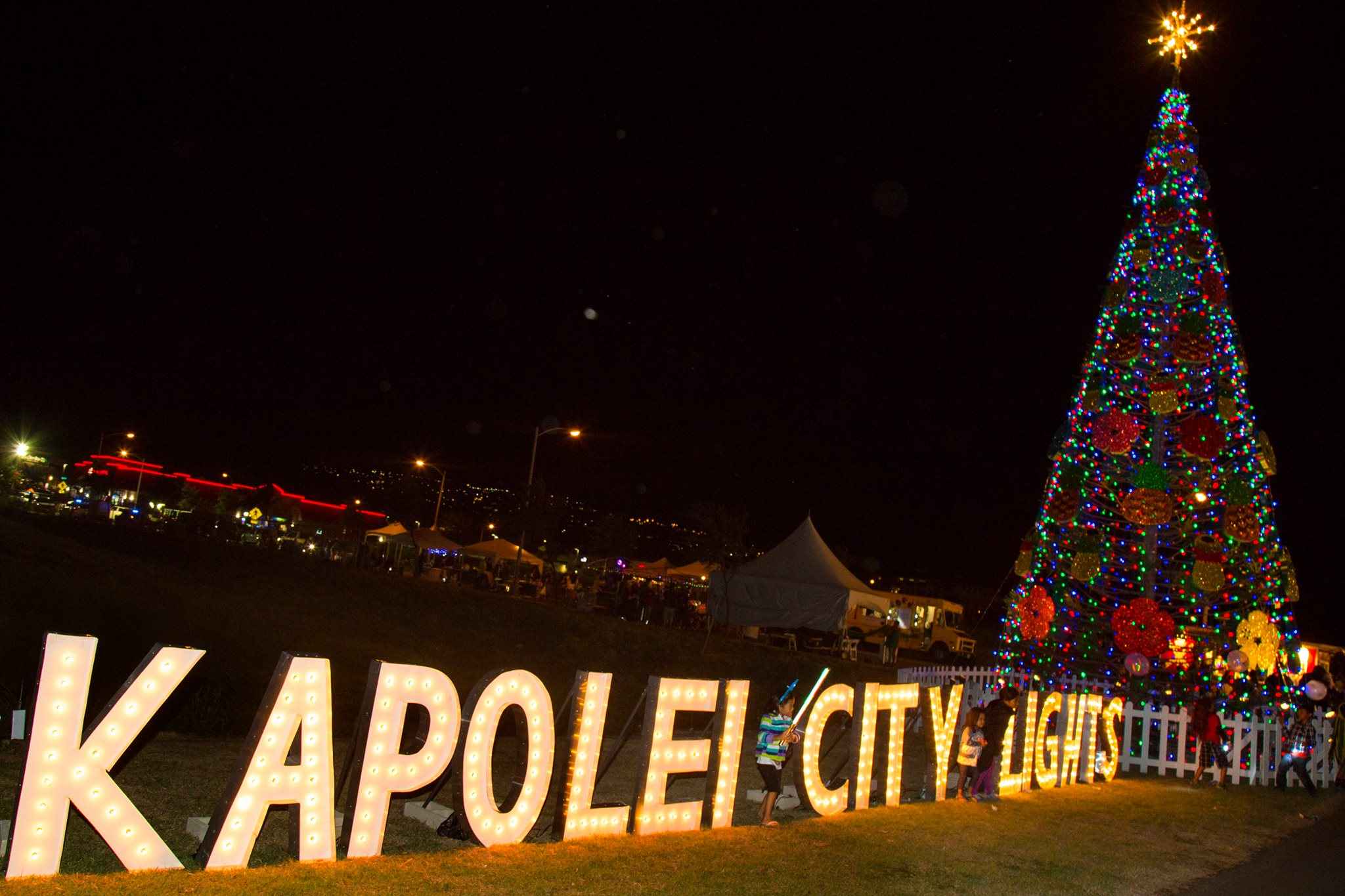 Holiday Tree
Serving as the centerpiece for this community celebration, our Division of Urban Forestry searches island-wide for a Cook Pine Tree to select for this festive occassion. It can't just be any old pine tree; our arborists look for tree with full and evenly dispersed branches/foliage, that is at least 50' tall and must be in a location where they can safely harvest and transport it to Kapolei Hale. It takes a lot of work and coordination! After it is installed, the tree measures 45' from the ground and is adorned with a luminous array of lights and ornaments.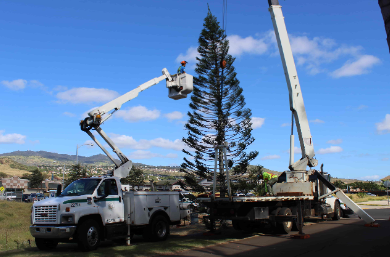 Kapolei Hale
1000 Uluʻōhiʻa Street #103 96707



Kapolei

,

HI

United States



Saturday, December 9, 2023 (5:00 PM - 9:00 PM) (HST)